Edmonton & Area Sewer Contractors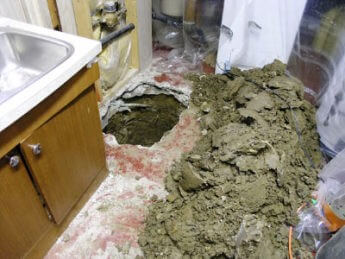 Signs You Need Sewer Line Maintenance
While the sewer lines at our homes are used every day to move and remove water and waste, we almost never think about our home sewer line. Until it develops a problem, the sewer line at your home is probably your last worry. Once a problem develops, there's little else you can focus on.
If you'd rather not have to deal with a huge sewer malfunction that can lead to expensive damage to your home, watch for the tell-tale signs that mean your sewer line needs attention.

Odour
Wetness around floor drains
Slow flushing toilets and/or frequent back-ups

If you notice any of these signs, it's time to call Lavenders Contracting for sewer line repair Edmonton trusts.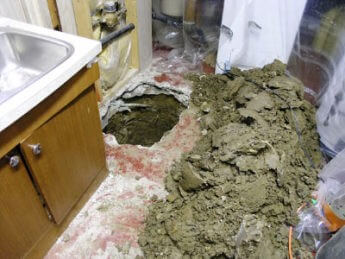 Trenchless Directional Drilling
If line replacement is necessary, we can replace your home's sewer line with a minimum of disruption to your property, thanks to trenchless directional drilling and video line inspection technology. In most cases, coring the line allows us to install a replacement without trenching your lawn.

Trenchless directional drilling is especially useful if you have a meticulously design lawn or if it difficult to find the source of the problem. With directional drilling we won't have to tear up your basement or yard to fix the problem.

When it's done you will have a new clean-out, new sewer and/or water line, and peace of mind, so you can go back to not thinking about your home sewer line.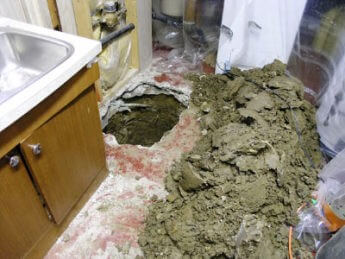 Video Sewer Line Inspections
As a homeowner, you owe it to yourself to check your sewer line every few years, especially in an older home. You don't want to contact a company that may not have up-to-date technology, or one that could end up charging you for extra services.

As sewer line contractors in Edmonton, Lavenders Contracting can use a camera to show you exactly what's down there, and then roto-rooting to clear clogs or tree branches, depending on what we find. Since we can show you the footage, you can trust that we are repairing what needs to be fixed and not charging for extra services. This technology also allows us to get an accurate grade for new pipes and sewers..

What we Offer
Our team covers a vast range of sewage services including:
MOBILE SERVICE
This means that we bring all of the tools to you using one of our custom truck solutions.
UNIQUE CORING OF LINE SERVICE
Reduces the amount of excavation required, reduces your costs, and reduces landscaping issues and repairs. We try to maintain the aesthetic integrity of your property as best is possible.
24-HOUR EMERGENCY SERVICE
We're available when you need us, 24 hours a day, 7 days a week, all year round.
COMPLETE WATER & SEWER REPLACEMENT
Depending upon the scope of your job, Lavenders is fully equipped to handle all aspects of your water and sewage needs.
24-HOUR EMERGENCY SERVICE
Call us any time during an emergency.
OUR CREDENTIALS
WE HOLD THE FOLLOWING SAFETY AND TRAINING CERTIFICATIONS:
First Aid
H2S Alive
Ground Disturbance & Safe Trenching

Ask about our
Seniors Discount.
LAVENDERS CONTRACTING
IS PROUD TO BE A MEMBER OF:
Remarkable Crew
See what past customers have to say about our service.