FIX BROKEN WATER LINES & MORE WITH LAVENDERS CONTRACTING LTD. IN EDMONTON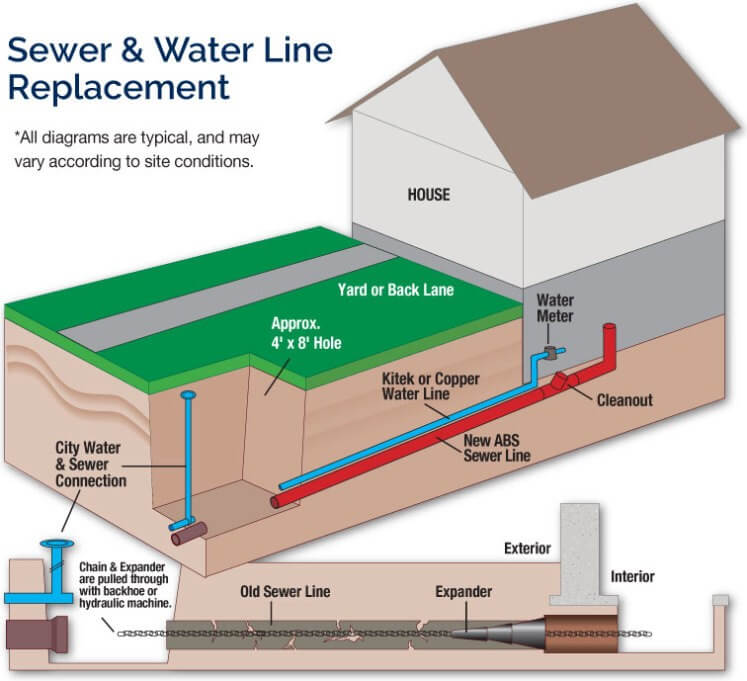 The next time you have a sewer or water line Problem, contact Lavenders Contracting Ltd. We provide you with a free estimate backed with 24-hour emergency service, and a 10 year warranty (or for as long as you own your home). We've been doing it right since 1972, with references available upon request.
DOWNLOAD BROCHURE
Initial consultation, site inspection & quotation.
All permits are acquired.
All Utilities are located prior to breaking ground.
Access hole is excavated at city connection.
Access hole is dug inside or outside at cast line connection.
Line is cored to remove old line, roots & debris.
New ABS sewer line, and new cleanout installed if necessary.
New Kitek or Copper water line.
All connections secured and tested.
Holes filled and tampered to minimize settling.
Site left as close to pre-work condition as possible.
Repairs to concrete floor if required.
LAVENDERS CONTRACTING SERVICES
Most Commonly Asked Question:
"Do we have to have our whole yard dug up?"

Answer: No, not at Lavenders Contracting Ltd. We are one of the few companies to provide a coring service through the existing line with very little disruption to your landscaping. Even if your garage is over your sewer or water lines, coring the line with the expander removes the old pipe and any roots leaving a clean path to install a new water line and ABS sewer pipe.
CERTIFIED IN:

You never think about your water or sewer line… until you have a problem. Then you worry about them all the time. Watch for the tell tale signs that your sewer line needs attention:
Wetness around the floor drain.
Odour.
Slow flushing toilets and/or frequent back-ups.
As a home owner, you owe it to yourself to check your sewer line every few years – especially in an older home. Lavenders Contracting can camera the line and show you exactly what's down there. Depending on what we find, we can roto-root to clear clogs or tree branches.
If necessary, we will replace the sewer line with as little disruptionto your property as possible. In most cases, coring the line allows us to replace your line without trenching your lawn. When done, you will have a new clean-out, new sewer and/or water line, and piece of mind that you can go back to not worrying about the pipes.
All covered for 10 years or as long as you own the property, GUARANTEED.





John Lavender, President
24-HOUR EMERGENCY SERVICE
Call us any time during an emergency.